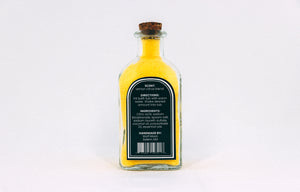 Solar Dust - Bath Brew
Dive into one of our most nourishing Bath Brews. Filled with vibrant yellow rays of sunshine and rejuvenating fragrances that will make you feel like you're soaking up the sun.

ABOUT:
Reusable glass bottle of your choice filled with our signature Bath Brew.
6oz = (Approximately) 2 Baths
11oz = (Approximately) 4 Baths

SCENT:
Lemon, citrus blend.


INGREDIENTS:
citric acid, sodium bicarbonate, epsom salts, sodium laureth sulfate, coconut oil, mica powder, lavender essential oil, polysorbate 80.
STORAGE:
Keep in a dry, cool place. Humid environments can prematurely activate this product.

All ingredients are natural, skin safe, and vegan.
Forever cruelty-free.