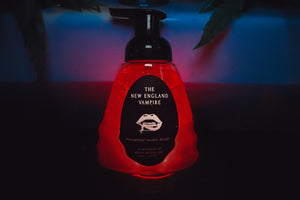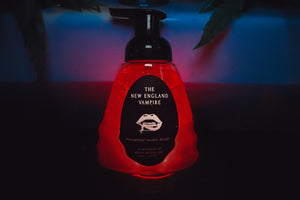 The New England Vampire - Foaming Hand Wash
In the 19th century, tuberculosis was responsible for claiming countless victims across New England. When a loved one caught the disease, it was common for others around them to fall ill too. At the time, physicians did not understand how germs spread. Villagers started to believe that people were falling ill due to their perished family members sucking the life out of them. Hysteria began to pour into New England. Panicked villagers dug up bodies from their graves and performed rituals which included burning their internal organs. It was believed that this was the only way to stop the dead from preying upon the living. Inspired by these events, this foaming hand wash lifts the veil on a time when vampires visited New England.

ABOUT:
A lathering foaming hand wash in a pump style 10oz bottle.

SCENT:
A bloodcurdling warm berry blend. 

INGREDIENTS:
Saponified olive, coconut, sunflower oils, aloe vera, shea butter, rosemary extract, citric acid, strawberry, grapefruit, orange, lemon, mulberry, jasmine, rose, violet, raspberry, musk, vanilla, amber, sandalwood oils.

All ingredients are natural, skin safe, and vegan.
Forever cruelty-free.