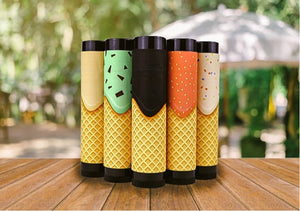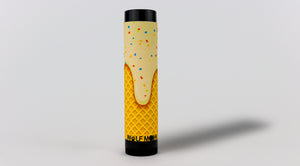 Ice Scream Lip Balm - Bundle - SPF 30
Graveyard Sale!! 30% Off 
**Limited Quantity Left**
Welcome to the ice SCREAM parlor!
What's your favorite flavor? 
Grab them all with this bundle!
SPF 30 - The sun is hotter than hell. Protect your lips from its harmful UV rays with our natural sun protection ingredients.
No tint, No flavor, No overpowering fragrance.

SCENTS:
(Black Raspberry) - Raspberry with a hint of vanilla, (Cake Splatter) - Cake batter, (Midnight Chip) - Mint Chocolate Chip, (Strawscarry) - Strawberry, (Villaina) - Vanilla.

INGREDIENTS:
Beeswax, Shea Butter, Coconut Oil, Avocado Oil, Red Raspberry Seed Oil, Fragrance Oil.

All ingredients are natural, skin safe, and vegan.
Forever cruelty-free.